Water Chiller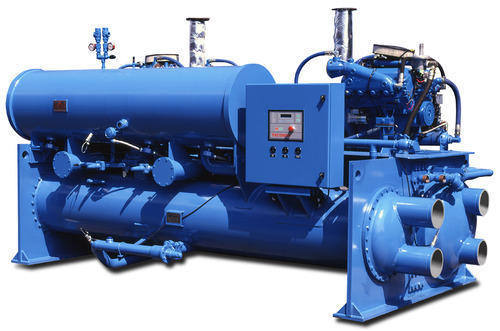 Water Chiller
Product Code : SCW
Brand Name : Super chiller
Minimum Order Quantity
10 to 300
Unit of Measure
Ton/Tons
Price
as per requiremnt INR
Application
All industrial cooling application
Air Flow
As per requiements m3/hr
Water Flowing Rate
As per requiements
Motor
As per requirements
Material
Other
Refrigerating Capacity
As per requiements
Condition
New
Type
As per requiements
Dimension(L*W*H)
As per requiements Millimeter (mm)
Power Supply
1PH/50 HZ 3 PH/50 HZ
Cooling Type
Water cooled
Compressor
Scroll, Reciprocating ,Screw Compressor
Warranty
18 months from the date of supply or 12 months from the date of Commissioning. Whichever occurs earlier
Payment Terms
Others, Delivery Point (DP), Cheque, Cash in Advance (CID), Cash Advance (CA), Cash Against Delivery (CAD)
Delivery Time
As per capacity Week
Main Domestic Market
All India
In most process cooling applications, a pumping system circulates cool water or a water/glycol solution from the chiller to the process. This cool fluid removes heat from the process and the warm fluid returns to the chiller. The process water is the means by which heat transfers from the process to the chiller.
Process chillers contain a chemical compound, called a refrigerant. There are many types of refrigerant and applications depending on the temperatures required but they all work on the basic principle of compression and phase-change of the refrigerant from aliquid to a gas and back to a liquid. This process of heating and cooling there frigerant and changing it from a gas to a liquid and back again is there frigeration cycle.
The refrigeration cycle starts with alow-pressure liquid/gas mix entering the evaporator. In the evaporator, heat from the process water or water/glycol solution boils the refrigerant, which changes it from a low-pressure liquid to a low-pressure gas. The low-pres sure gas enters the compressor where it is compressed to high-pressure gas. The high-pressure gas enters the condenser & condenser water removes heat to cool it to a high-pressure liquid. The high-pressure liquid travels to the expansion valve, which controls how much liquid refrigerant enters the evaporator, thereby beginning the refrigeration cycle again.